Features Overview
---
VMI Conversion
Amerivan Conversion
Power fold-out ramp
14" lowered stainless steel floor
Kneeling feature
Both front seats removable
Color-keyed carpeting
Automatic load-leveling air suspension
56" sliding door height (left and right)
54" fold-out, power ramp
Q-straint wheelchair restraint track front and center locations
EZ Lock power supply
EZ Lock plate mounting capability (driver and passenger side)
Body side cladding
Ramp System
---
All VMI Northstar conversions come with a patented, ultra-low, in-floor power ramp that allows for safe entry and exit for even the largest power. The ramp is stowed under the floor, creating more interior room for maneuverability and minimizing dirt and debris in the interior.
Features of the van include:
Most headroom of any converted Honda mobility van
Greater usable floor length for maneuverability
Easy entry for wide power chairs on 30" ramp
Sleek design fully integrates with factory styling

The PowerKneel
The PowerKneel™ system uses an ultra low ramp angle for extremely easy access

Obstruction Free Doorway
Passengers can enter or exit freely without the ramp deploying.

Electronic BackUp System
for added peace of mind, the backup SURE DEPLOY™ system ensure your ramp will work, even during electric failure.

High Capacity Ramp
This ramp has an 800lb weight capacity and a wider usable area than other conversions making it accommodating to any wheelchair.

Greater Safety
In the event of a collision the ramp is tucked safely away.
The VMI Dodge Grand Caravan with Summit conversion is equipped with a sturdy, fold-out ramp that provides high side rails for easy navigation up and down the ramp. This affordable option accommodates both manual and power chair users.
Features of these new and used conversion vans include:
A full-powered mobility van for a lower price
Easier ramp navigation with 2″-high side rails
High ground clearance to reduce scraping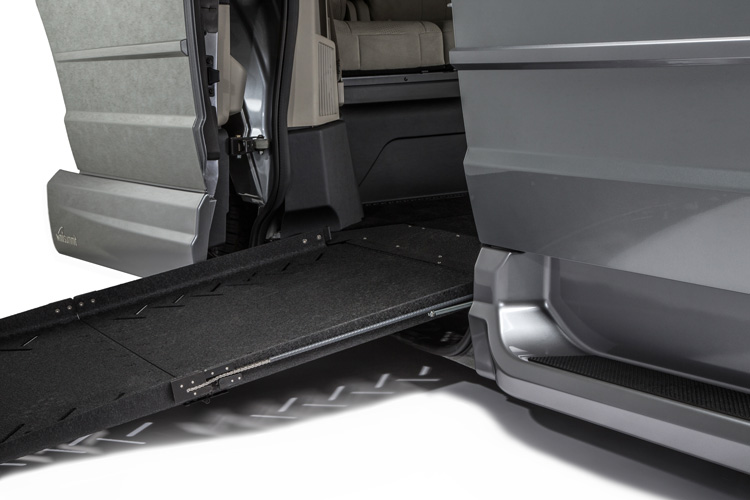 High side rails
The high side rails provide easy access and safety while navigating up and down the ramp.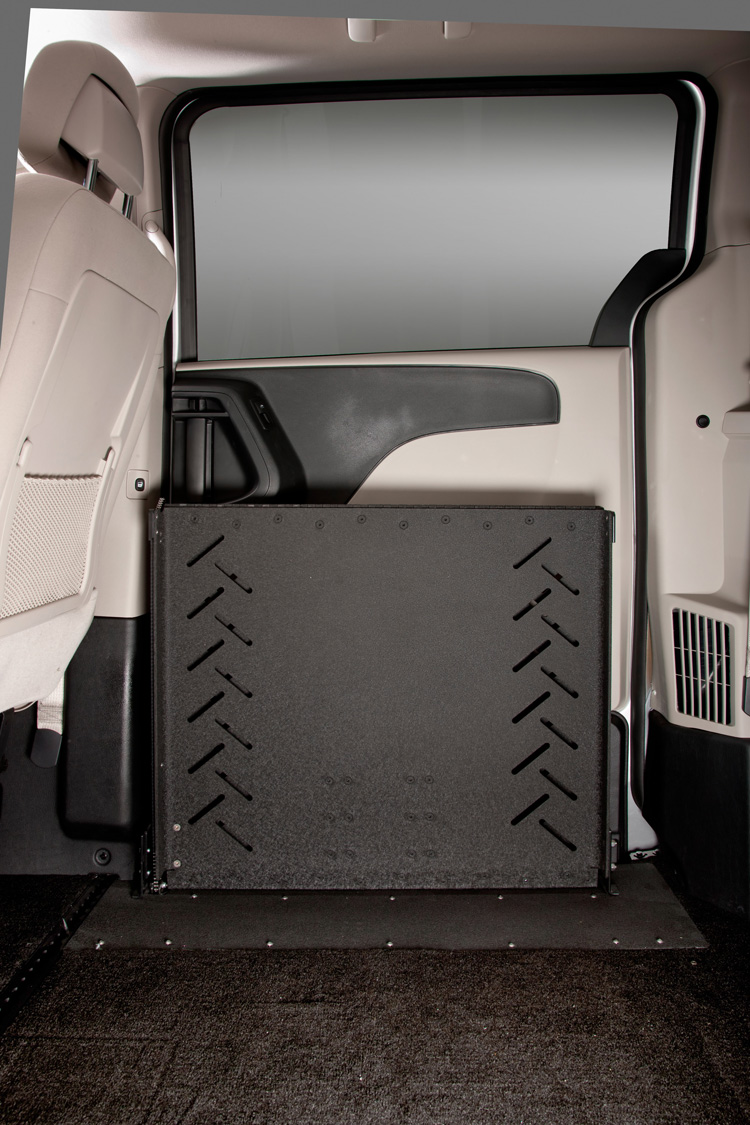 Safety and reliability
The safe and reliable ramp can be manually operated by simply pushing the ramp out if needed for any reason.
The Northstar E manual ramp system is the only caregiver-focused conversion to offer front-seat wheelchair access and an in-floor, 800lb capacity slide-out ramp that requires no bending or lifting to use. With a roomy interior and optional mid-row seats, the Northstar E offers practicality, minimal maintenance and ease of use at an affordable price.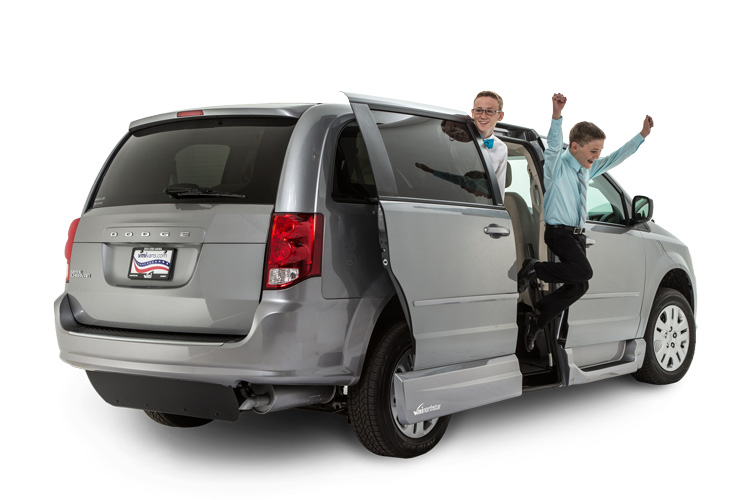 Unobstructed doorway
Ramp slides out from beneath the floor, permitting passengers to enter and exit without deploying the ramp.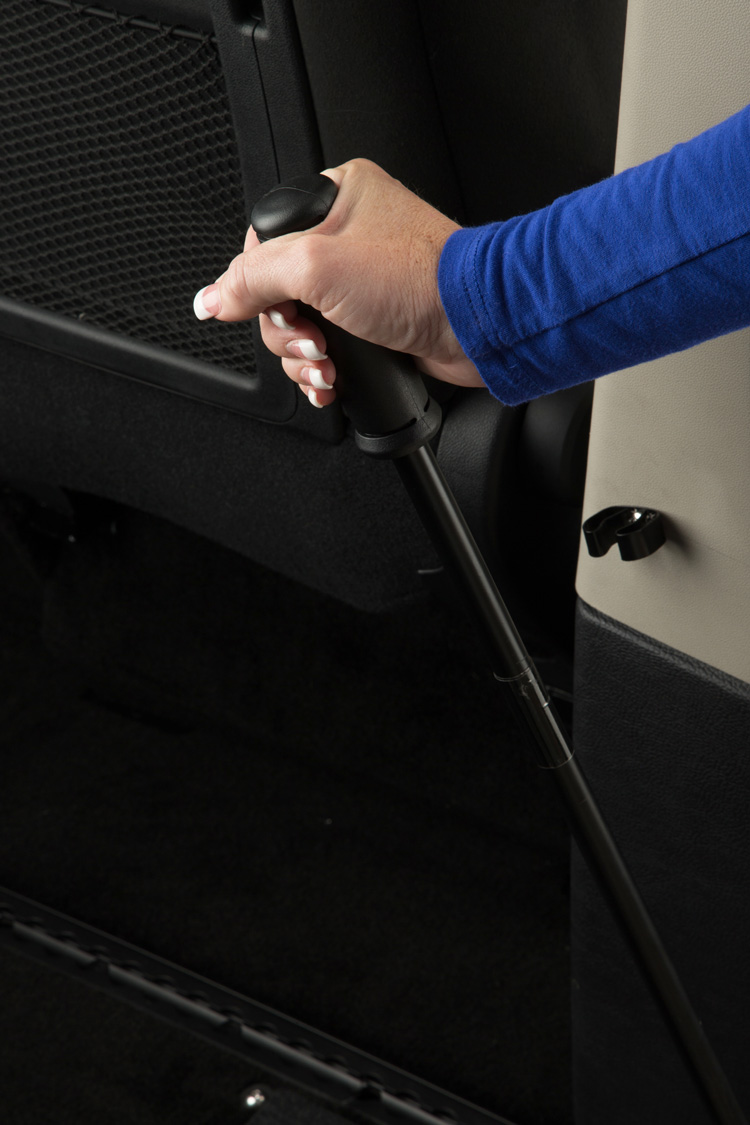 Easy to use manual operation
Easy to use handle makes it almost effortless do deploy and retract the manual ramp. The ergonomic handle and ramp height eliminate the need to bend down to deploy the ramp.
Interior Space
---
Our Chrysler Town & Country Northstar offers an obstacle-free front row for more wheelchair maneuverability.
Both front-row seats can be removed to accommodate wide power chairs and provide multiple seating options.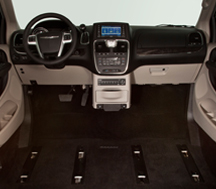 OBSTRUCTION-FREE DOORWAY
The front row floor is free of obstacles to accommodate wheelchairs of almost any size in the driver and front-passenger areas.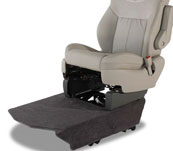 REMOVABLE FRONT SEATS
Front seats can be removed to create multiple seating options for greater independence and flexibility.
Headroom
---
Our Chrysler Town & Country Northstar provides enough door height to accommodate manual wheelchairs and small-to-medium power chairs.
The doorway is clear of obstructions for easy entry and exit and has a dropped floor to give wheelchair users a clear line of sight.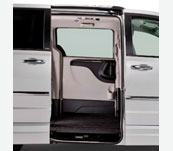 DOOR HEIGHT
55-inch door height is suitable for all but the tallest wheelchair users.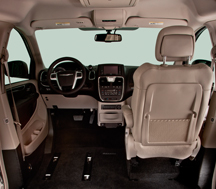 ACCOMMODATING VERTICAL SPACE
11-inch dropped floor provides ample headroom throughout the vehicle.
Comfort & Style
---
Our Chrysler Town & Country Northstar offers a clean, uncluttered interior.
Enjoy a quiet, comfortable ride with noise-reduction engineering and an array of Chrysler's most popular interior and entertainment features.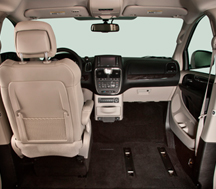 STYLING
Factory-quality styling and color-match tie together flooring, molding and finishes for better aesthetics.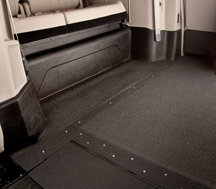 A QUIETER RIDE
Engineered to minimize interior noise with extensive use of sound-deadening materials.
Other Features
---
Our Chrysler Town & Country Northstar mobility minivans come with additional features for extra durability and ease of use.
For example, the VMI Northstar reduces the likelihood of under-vehicle damage by providing up to 1.5 inches of additional ground clearance over other mobility vans.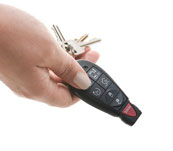 EASY RAMP OPERATION
Factory-quality styling and color-match tie together flooring, molding and finishes for better aesthetics.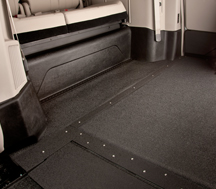 CORROSION-RESISTANT FLOOR
All VMI conversion floors are E-coated for optimal rust and corrosion prevention.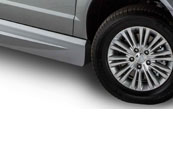 DAMAGE PREVENTION
High ground clearance reduces scraping caused by speed bumps, crested pavement or dips.